If you are looking for best short hikes Pokhara, one of the attractive city, you can do short trek around. After boating, you can go to Shanti Stupa. It is located as a bar of Phewa lake. From there we can see whole Pokhara's view with reflecting snow covered mountain range on the Phewa Lake, balloonists on the sky & panoramic view. Pokhara, the beautiful lake city, is one of the most beloved destination as if offers you panoramic view of high mountains like Annapurna, Machhapuchre, Dhaulagiri, Lamjung Himal, etc. There is a wide choice of trails in the mountains around Pokhara. We have listed down 8 top short treks around Pokhara:
The Ghorepani Poon Hill Trek – 5 Days
It is a popular trail that lies in the Annapurna Region. The trekking to Ghorepani Poon Hill is also known popularly known as Annapurna Balcony Trekking. The trekking routes to this area covers abundant areas of the Annapurna Circuit. The trekking trial is a colorful short route within Annapurna region, which winds through patchwork valleys, dense mossy forests and past icy waterfalls. The trial passes through magnificent rhododendron forests and beautiful indigenous Magar and Gurung Villages where you can witness and live their culture and tradition. Ghorepani Poon Hill Trekking is the best trekking destination for trekkers who wish to explore the combination of culture, lifestyle of Nepalese people along with incredible views, sunrise and sunset of Himalaya.  Poon Hill Trek offers you phenomenal panoramic view of captivating Himalayas including Annapurna South, Annapurna I, Annapurna II, III, and IV, Dhaulagiri, Lamjung Himal, Gangapurna, and Manaslu ranges among few others.
Dhampus Sarangkot Trek – 3 Days from Pokhara.
Dhampus Trek offers you amazing views of the north of Annapurna ranges including the Dhaulagiri, Fishtail etc mountains, beautiful sunset and sunrise on the Himalayas , countryside experience. This classic 3 days trek Pokhara is short yet rewarding and provides you an opportunity to experience the countryside experience in Nepal. Dhampus is a mountain view point as well as a small Gurung ethnic village. Pokhara Dhampus Trek is also a gateway to Annapurna Conservation Area.
Begnas Thulokote Day Hiking – 1 Day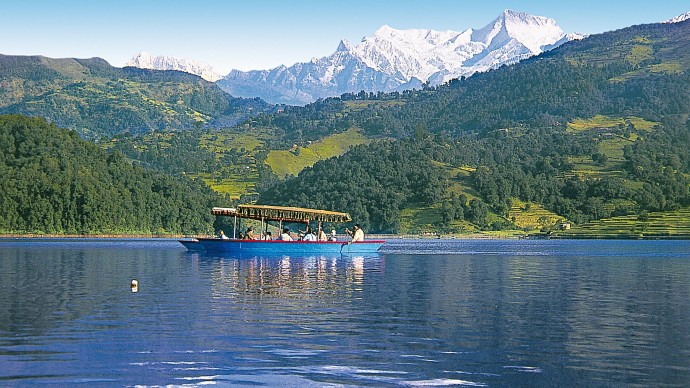 Explore a pristine part of the Pokhara region with your own private guide on a full-day tour that features the Begnas Thulokote trek. Hike for several hours, pass through picturesque rural villages, and take in sweeping views of Annapurna and Fishtail Range, Pokhara Valley, Phewa Lake, and Begnas Lake. You'll also cross Begnas Lake by boat and have the option to purchase lunch at Begnas Lake Resort. Includes private guide and transportation, boat ride, and hotel pickup and drop-off.
Read more about Private Begnas Thulokot Hike and Full-Day Tour
Pokhara to Muktinath Jeep Tour – 4 days from Pokhara
The tour can be considered as one of my sweetest, most unforgettable and the most popular tour in Nepal. It not only provides a view of diverse landscapes with mountains, cultures and rural habitat of Nepalese people along the route but also a peace of mind, soul and spiritual happiness. The place itself is so pure and loving that nobody remains unhappy, bored and unemotionally attached. It is rich not only in natural beauty but also full of loving, caring, trustworthy and innocent people. If you don't like to go by drive then you can choose the Jomsom Muktinath by flight service or Muktinath Charter helicopter service.
4 Days Trek To Poon Hill from Pokhara.
The Poon Hill Trek 4 days brings you to the beauty of the Annapurna Himalayas. This short but extraordinary trek is perfect for any type of traveler and is graded as an easy trek/hike. One of the most spectacular treks the Poon Hill trek 3 nights 4 days promises you an unforgettable journey with some of the world's most amazing views. The goal of this trek is to reach the Poon Hill viewpoint, about a 45 minutes upwards hike from the Ghorepani village. Witnessing the sunrise over the Annapurna mountain range is absolutely breathtaking, so be sure to bring your camera!
Luxury Trekking From Pokhara – 5 days
Annapurna Luxury trek begins from the heaven of Earth that is Pokhara towards the beautiful Gurung villages. Further, Trek will lead you to Ghanduk (best village of Nepal) where the local people welcome you. You can now experience the real taste of typical local culture and spectacular views of natural sceneries staying in luxury hotels. Nepal Tours provide you a safe trip with a best co-operative service in high level of comfort. For the Annapurna Luxury Trek. You can click to see the details.
Family Lodge Trek From Pokhara – 6 Days
There are many different pathways through the incredible Annapurna Mountains. Some of these treks are quite challenging and designed for the experienced trekker. Others are easier and are ideal for beginners, people with young families or those who have artificial joints. The Annapurna Panorama Lodge Trekking is an easier trek that doesn't skimp on natural beauty or scenic opportunities. Even experienced trekkers will enjoy the superb beauty of this trek. Planning an adventure travel in Nepal with your family? There are plenty of family lodge trek options in Nepal where you can take your family for a vacation. Although previous family trekking and camping experience will be highly helpful, nevertheless with the help of experienced kid-friendly guides you can easily trek in Nepal. Looking for a day hike in Pokhara? Do you want a short trek in Pokhara? Are you looking for a family trekking in Pokhara? If yes, then choose Australian Camp trek.
Ghandruk Trek – 6 Days
Ghandruk Trek starts from Nayapul which serves as the gateway to the trek. It takes 2 hours on bus and 1 hour on taxi to reach Nayapul from Pokhara. The altitude of Nayapul is 1070 meters while that of Ghandruk is 2000 meters. Ghandruk is the most scenic and popular trek that can be done from Pokhara. Ghandruk Trek offers very close view of Annapurnas and the view during sunset and sunrise is fantastic. The walk provides you the breathtaking views of Annapurna South, Gangapurna, Annapurna III, Machhapuchre and Hiunchuli. The Mountain View is very beautiful and the trail is relatively easy. The highest point is only 2000 m. So there is no risk of altitude sickness. All of these make this trek an ideal choice for everyone looking for short trek in Annapurna foothills.
Finally if you are in around to Pokhara and  you would like to see things to do in Pokhara. Please visit this link: