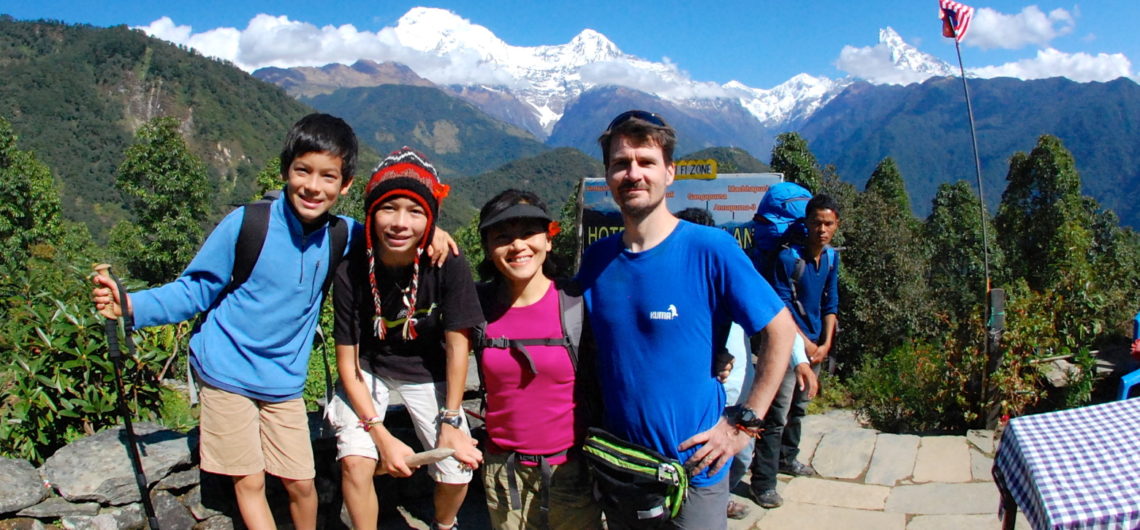 Are you visiting Nepal for a short period? Willing to explore in a short time then this short treks in Nepal blog post will guide you.
Short treks of Nepal are best for those who are short on time but want to experience the joy of trekking in Nepal. Bask in the picturesque beauty of verdant hills and mountains and walk on trails that pass through villages, farmlands, forests, and alongside the river. Experience warm local hospitality and get an insight into the local culture.
We will try to list out the popular trekking region, which is famous for short treks in Nepal. These are the best destination available for quick trekking around Nepal.
Here, we have put together a list of 6 short treks in Nepal for beginners and all ages trekker. These listed short treks are perfect for the families, the elderly, and even kids. Without any risk of mountain altitude sickness, one can enjoy the nature, culture, lifestyle of the mountain people.
Be ready with your camera lens to capture the picturesque views of the Himalayas, the hilly villages, and other beautiful natural sceneries. All the below short treks offer you an easy walk through the beautiful nature of Nepal.
Everest Panorama Trek
It is one of the short and popular treks in the Everest region of Nepal. Everest Panorama Trek Starts at the Lukla (2828m/9278 feet) and passes through the several Sherpa villages like Phakding, Namche bazaar, khumjung village, Khunde village and many other small villages. From every village incredible mountains views can be seen.
Nepal is known as the country of Mt. Everest and every one may have such desire to see this highest mountain in the world. This trekking is not only popular for highest mountain. This trek also provides the warm hospitality of Sherpa people, so one can experience Sherpa culture, way of living style, visit monasteries, wild animals and enjoy the mountain views of snow capped peaks.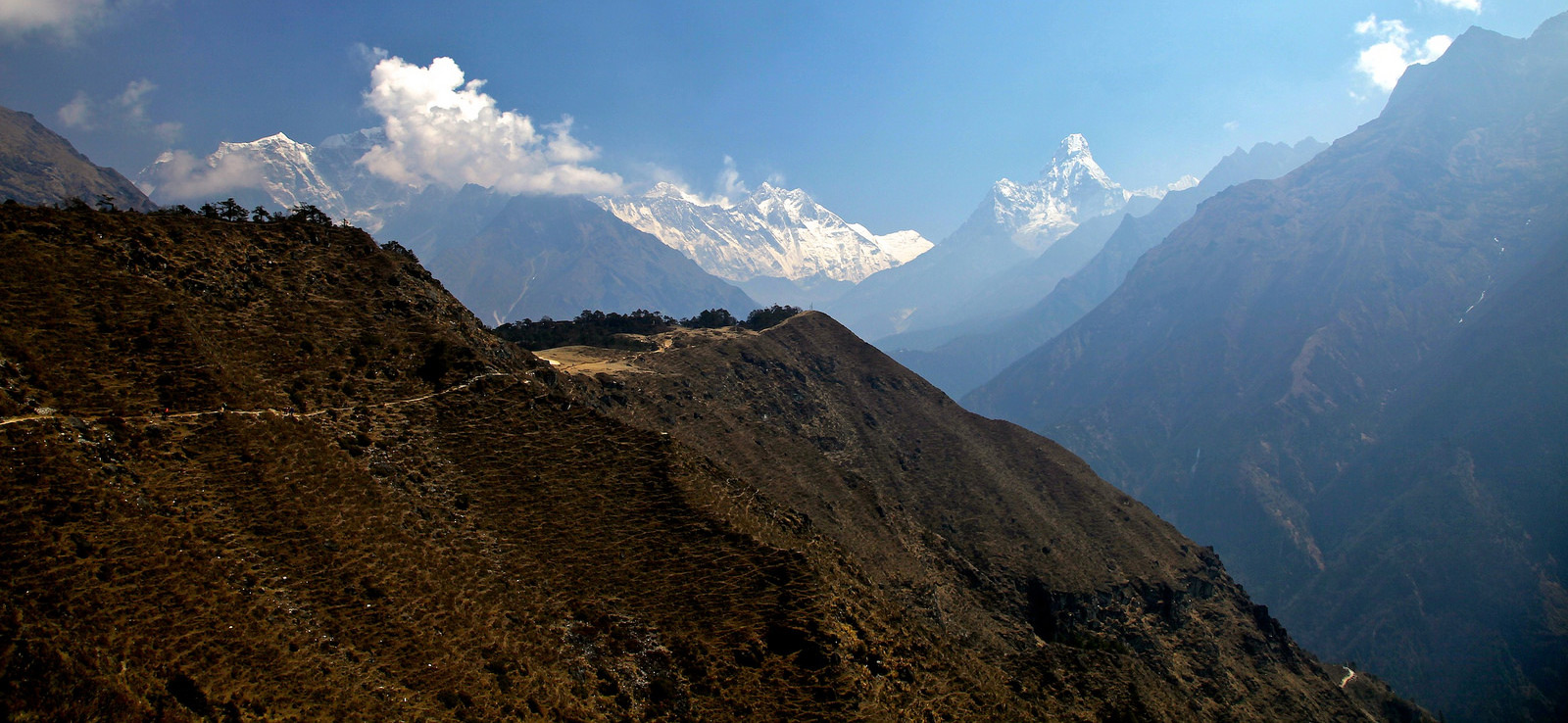 From Namche Bazaar a short walks uphill to a magnificent spot (Everest view Hotel) with spectacular of the surrounding snow-capped giants include Mt. Everest and the valleys below. The Khumjung  is wonderful village with background exciting glance of the high mountains.
Tengboche Monastery (3867m/ 12687 feet) is surrounded by rhododendrons forest. Tengboche monastery is the one of the biggest monasteries in khumbu area.
How to get there?
Lukla is the entrance point of the Everest Base Camp Trek. One of the most preferred ways to reach Lukla is by taking a direct flight from Tribhuvan International Airport. You can get there in 25-30 minutes. Since the flight takes very less time, we recommend you pick this option if you are on a tight schedule.
Lukla's airport is small, like a mountain airstrip. So, prepare yourself to face problems like flight delays. Also, try planning your trip in the best season to avoid bad consequences.
Langtang Valley Trek
A trek to the Langtang valley has to be one of the most rewarding of the short treks available anywhere in Nepal. The east-west running valley is the site of some spectacular alpine scenery as well as being a great place to meet unique people.
A minimum of one week is required but trekkers are well advised to add a few extra days for acclimatization and for side trips in the valley. Along our journey you will walk through the Langtang National Park. Although wildlife is never easy to spot in a forest setting, here you get the chance to see some interesting animals and birds.
Among those found in the park are monkeys, musk deer, Pika and the national bird of Nepal, the colorful danphe.The trek is best started either from Dhunche or from Syabrubesi.
Ghorepani Poon Hill Trek
It is one of the short and popular treks in the Annapurna region of Nepal. This Ghorepani Poon Hill Trek starts from Pokhara and if you want to see some of Nepal's big peaks up close it's the best option for a short trek. The view from Poon Hill (3210m/10531ft) takes in Annapurna South, Annapurna I and Dhaulagiri.
The first few days the trail makes a steady climb between the small Sherpa villages. The second night can be spent in Tadapani which offers great views of Annapurna II, Annapurna South, Hiunchuli, and Machapuchare which is also known as "Fish Tail." If you bring some swimwear you can make the short hike down to the river to enjoy the hot springs in Tadapani.
It's another days climb from Tadapani to Ghorepani from where the following morning you hike to Poon Hill to catch the sunrise on the Himalayas. After taking in the views it's time to head back to Ghorepani and start the return trek.
How to get there?
Ghorepani Poon Hill Trek is easily accessible from Pokhara. So, if you are starting your trip from Kathmandu, then first, you need to arrive at Pokhara. You have lots of options available to reach Pokhara, flight being one of the best options. It will take about 30 minutes to reach there via flight.
From Pokhara, your next destination is Ulleri as it is the starting point for the Poon Hill Trek. We always recommend you drive on a private car/jeep so that you can get to Ulleri directly from Pokhara without requiring to change buses. Also, avoid starting to trek from Nayapul as the road is dusty and muddy.
The condition of the road from Pokhara to Nayapul is good and easily driveable. However, the road starts getting rough, and bumpy once you cross Nayapul as the road from Nayapul to Ulleri is unpaved.
Kalinchowk Trek
Kalinchowk Trek, a perfect destination for a short trek in Nepal can be done within 3 days. Kalinchowk, residing at a height of above 3,700m is accessible from a drive from Kathmandu to Charikot and further 6-7 hours continuous trekking upward the hill.
Kalinchowk Trek is considered to be one of the non touristic trekking routes in eastern Nepal. The view of Ganesh Himal, Shisha Pangma, langtang, Dorje Lakpa, Jugal Himal, Gauri Shankar etc. are clearly visible in fine weather condition through this route.
Tremendous beauty from the high hill of Kalinchowk takes your breath once giving means to visit of this region.
Chisapani Nagarkot Trek
Chisapani Nagarkot trek is one of the easy, short, and beautiful trek for those who have limited time. It gives you an opportunity to explore locality of Tamang people who lives on the edges of Kathmandu valley.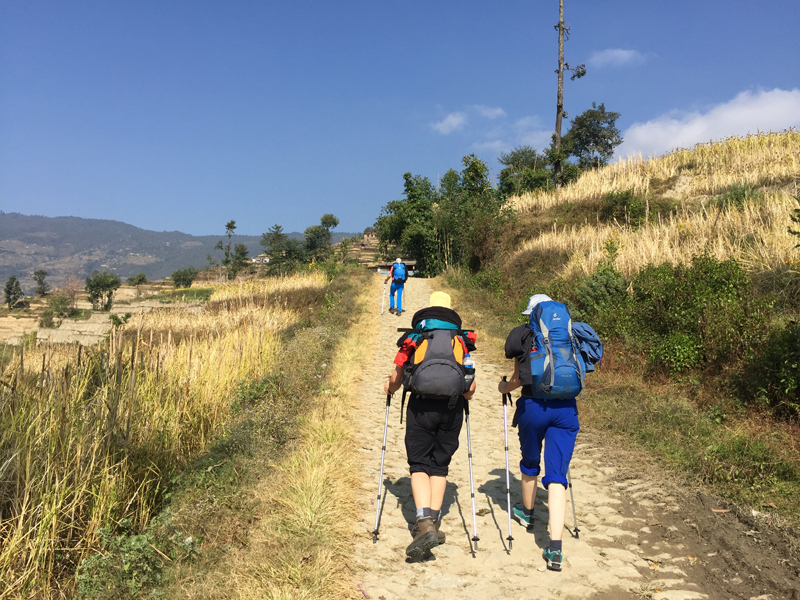 You can have a wonderful view of Kathmandu valley, beautiful hike in Shivapuri National park, green paddy fields, and mountain obviously. This trek starts with the drive from Kathmandu to Sundarijal for 1 hrs by bus/car and hike to Chisapani for 4 hrs with a beautiful Tamang villages and a spectacular mountain view as well as green forest of Shivapuri National Park.
If you are lucky enough then you could spot a wild animals like deer, Wild boar, Leopard and many species of birds. You can enjoy your lunch at the local teahouses to get more close with locals.
Kathmandu Day Hiking
It is one of the short and popular treks near to Kathmandu Nepal. Hiking around Kathmandu offers you an  opportunity to see fantastic mountain views and explore Nepalese countryside without going too far and without climbing high. Besides you do not have to lose the comfort of the city while doing these hikes.
Kathmandu is a valley surrounded by green hills all around. These hills are covered with terraced farms, picturesque villages and  lush green  forests. Despite being nearfrom Kathmandu these villages are still not affected by  modernity and offer a chance to see traditional village life.
You can see temples, monasteries and Stupas along the trails. You can see farmers working in the fields and pilgrims praying in the monasteries. These Kathmandu hikes are for every age group and for all seasons. If you want to have a taste of trekking in Nepal but do not have time to go all the way up to the remote mountains, these hikes are for you. Trekking in Kathmandu, combined with sightseeing tours of heritages sites and a scenic flight to see Mt Everest could make a fantastic short trip of Nepal.
There are many short treks available near Kathmandu ranging from day hikes to short treks of 2 days, 3 days or even longer. We have offered here the best three among them.
Note: In our official website Nepal Tours, we are listed on Short treks under the trekking section. Please choose one of them