If you are a newly married couple, then we would like to welcome for Honeymoon Tour in Nepal. Choosing a holiday destination is always a hard task, and if you are searching for honeymoon vacation. Then you will find it more complicated to choose among different places. This article will guide you to Nepal Honeymoon Packages with prices for a couple. Though Nepal is a landlocked country. Nepal is a country of mountains, and it is a prominent place to pay a visit for a comfortable and adventurous trip.Nepal is an amalgamation of multiple romantic features like mountain ranges, deep valleys, narrow walkways, and peaceful lakes. It is magical and mythical; spiritual and serene at the same time. If you are recently married and you need a romantic places and scintillating destination to start your new life with your better half; Nepal couldn't be any better destination to give you the flavor of beauty, culture, and diversity all served together as one with the Himalayas, undying cultural diversities, awesome lakes, and destinations, trekking places, the lovely monuments with ancient pagodas, the hills, villages, and all. It is a perfect places for a honeymoon in Nepal. The dreamland will offer you the best of romantic moods, aura and spirits and will make your love bloom with full glory. Here we go with 05 handpicked places to visit in Nepal for honeymoon.
Top 5 Honeymoon Places Nepal
Kathmandu
It's the capital city of Nepal, and is so special for all the newly married couples, so spent your time in a liberal but culturally defined city. Here, couples can explore the city with temples , monuments, cultural heritages, ancient pagodas, and restaurants. Kathmandu, additionally, offers the possibility of encountering generally served Nepalese authentic food with so many appealing hotels.
Key attractions: Bird's eye view of Mount Everest and Himalayan ranges in the mountain flight tour operated by local airlines, Pashupatinath temple, Boudhanath temple, Dakshin Kali temple, Kopan and Shechen monasteries, wildness and beauty of Langtang National Park, and the alluring and glittering nightlife at Casino Royale and Casino Anna
Best places to stay: Hyatt Regency, Crowne Plaza, and Hotel Annapurna
Best time to visit: September – November and February – April for Kathmandu visit, monsoons for picture-perfect Himalayas
Nagarkot:
Apart form all the cities, Nagarkot is a very famous place among many hilltop stations in Nepal – where you can spend you perfect honeymoon trip. It's just 32km away from the capital Kathmandu, which is packed with hotels and restaurants. It is famous for sunrise and sunset views with possible views of Himalayas, too.
Key attractions: View of the Mount Everest and Annapurna Range, view of the first rays of the Sun falling on the peaks of Himalayas at sunrise, and trekking along the winding tracks and thick woods
Best places to stay: Club Himalayan Resort, Hotel Country Villa, and The Fort Resort
Best time to visit: October – April; especially for the clear view of Mount Everest
Balthali
The small settlement of Balthali village (1,730m.) is standing on a plateau, just beyond Panauti above 40 Km away from Kathmandu. The village is situated at the junction of Roshi and Ladku rivers. This exceptional hamlet stands at an outstanding place of isolation and relaxation amidst a surround of typical Nepali countryside with terraced rice fields and ochre thatched farm houses. With snowy peaks of Dorjee Lhakpa, Langtang and whole range of mountain rests clear and bright on the northern horizon. Whist the backyard is dominated by high hills of lush green Maharabharat Range. The region is thickly forested with luxuriant growth of various floras. Colorful rhododendron, Mangolia and Sal trees cover the hill that undulates and opens out to terrace fields. Nature lovers and bird watchers can spend days exploring and discovering some exceptional species of wildlife, tradition and culture untouched by modernity. Many of the sacred and ancient temples and monasteries such as Namo Buddha, Indreshwar Mahadev Temple, Brahmayani Temple are located in this region.
Key attractions: View snowy peaks of Dorjee Lhakpa, Langtang and whole range of mountain rests clear and bright on the northern horizon
Best places to stay: Balthali Eco Hill Resort, Balthali Resort
Best time to visit: October – April; especially for the clear view of Mount Everest
Bandipur
 
This is the chance for making a thematic honeymoon. Let the first trip with your life partner be in and around the Newari culture at the fascinating and serene Bandipur in Nepal.
Key attractions: Romance topped with thrill at the Siddha Gufa, Annapurna short-circle trekking, jungle safari, and the serene silkworm farm
Best places to stay: Gaun Ghar, The Old Inn, Hotel Bandipur Organic Home
Best time to visit: March – May
Pokhara
The city of lakes – is one of the superb and enthralling places to visit in Nepal for honeymoon. For a newly married couple, Pokhara is a dreamland, with picture-perfect setting of Himalayan Range, lakes, deep valleys, and winding trek paths. The luxurious accommodation options make the place a paradise for honeymooners.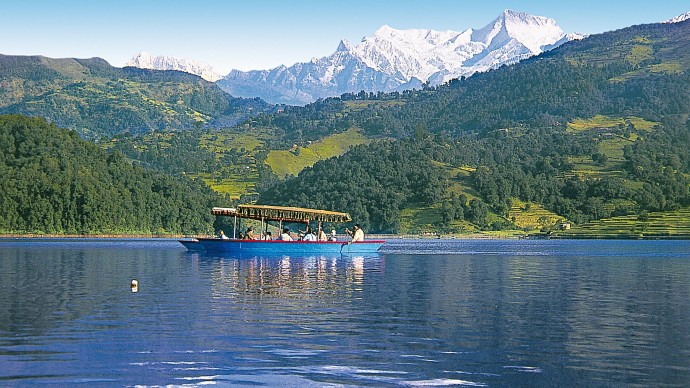 Key attractions: A view of the engrossing Annapurna Range, romantic boating at Phewa Tal (second largest lake of Nepal), marital bliss at the age-old Bhimsen Temple, and Phoenix Paragliding
Best places to stay: Fishtail Lodge, Waterfront Resort, and Hotel Dream Pokhara
Best time to visit: March – May; for non-foggy and comfortable weather
Conclusion:
Do you think that the beautiful journey of your marriage should begin from a beautiful destination? Planning a surprise honeymoon is an ultimate romantic gesture, and the greatest gift you could ever give her/him. Nepal Tours introduces great Honeymoon Tour Package for Couples who wish to make their honeymoon the most beautiful and memorable event of their life.