Trekking in Kathmandu
are for every age group and for all seasons. If you want to have a taste of trekking in Nepal. You do not have time to go all the way up to the remote mountains these hikes are for you. The sub-alpine forests and quiet countryside make for a great short break from the hustle and bustle of city life. Most of the hikes mentioned here can be done in a single day and are suitable for children and older people.
Kathmandu is a valley surrounded by green hills all around. These hills are covered with terraced farms, picturesque villages and lush green forests. Despite being near from Kathmandu these villages are still not affected by modernity and offer a chance to see traditional village life. You can see temples, monasteries and Stupas along the trails. You can see farmers working in the fields and pilgrims praying in the monasteries.
A Kathmandu trekking combined with sightseeing tours of heritages sites and a scenic flight to see Mt Everest could make a fantastic short trip of Nepal.
There are many short treks available near to Kathmandu ranging from day hikes to short treks of 2 days, 3 days. We have offered here the best three among them.
Chisapani Nagarkot Trek – 3 Days
Chisapani Nagarkot Trek is a short and sweet trip of 3 days tea house trek around Kathmandu. Which can be extended to Dhulikhel and Namo Buddha for another 1-2 days. This tour plan is designed for the short time travelers in Nepal who would like to taste of Nepal. Chisapani Nagarkot Trek starts from Sundarijal after driving 45 minutes from Kathmandu. In the beginning the trail pierces Shivapuri National Park passing through a big watershed that provides 40 percent drinking to Kathmandu Valley. Chisapani Nagarkot Trek offers beautiful nature and village walk experience, natural environment, stunning Himalaya panorama of Manaslu, Ganesh Himal, Langtang Himal, Gaurishankar Himal and even we can spot Mount Everest in far distance.
Kathmandu 3 Day Trek Highlights:
Get up close to Nepali culture in the Kathmandu Valley
Hike the oak and pine forests of the Shivapuri National Park
Go to the oldest temple of the Kathmandu Valley
See the terraced fields of Changunarayan
Admire panoramic views of Everest from Nagarkot
Enjoy the services of experienced guides and local sherpas
Itinerary:
Day 01: Kathmandu – Chisopani (2115m), 4-5 hours walk.
Day 02: Chisopani – Nagarkot (2195m), 6-7 hours walk
Day 03: Nagarkot – Changunarayan – Bhaktapur Durbar Square- Kathmandu
To Book the Kathmandu Valley Trek : Looking for a 3 day hikes near Kathmandu – See the details on 3 Days Kathmandu Trek Packages
Champadevi Hike – 1 Day / 2 Days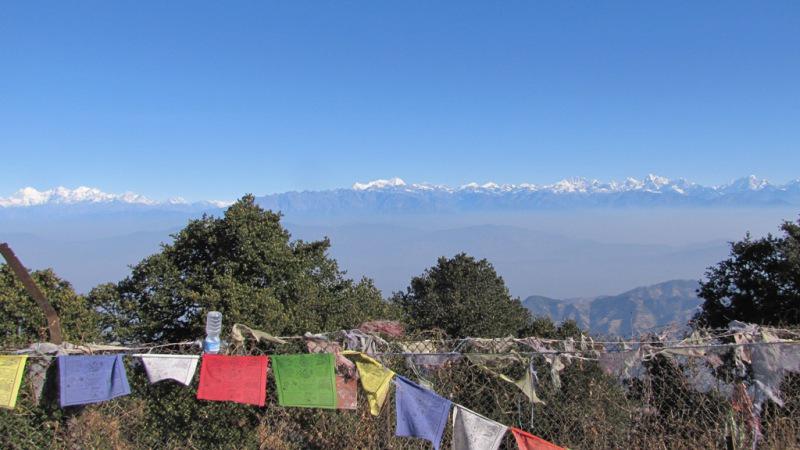 Champadevi is a magnificent hill located at an altitude of 2285 m south – west of Kathmandu which is one of the most popular pilgrimage sites in the Hindu and Buddhist religions. Champadevi Hikes starts with one hour drive to Pharping Village (19 km) on the way to a Dakshinkali temple (a temple of goddess Kali). Leaving the Pharping village, the trial directs us the way through the pine forest.
Champa Devi Hill is situated at an elevation of 2,285m, having a Buddhist and Hindu shrine on the top. After the 3 hours motivating walk, we submit the top. Enjoy the superb view of central and western Himalayan range including Langtang, Gauri Shanker, Jugal, Dorge Lakpa and many other. Apart from that, you get the chance to admire the bustling Kathmandu valley and its dense settlement.
Day Itinerary:
08:30 – Pick you up from your hotel
08:45 – Depart from office to hiking starting point approx. 1 hr drive which is 19 kms south West of Kathmandu
09:15 – Tea break, fill up water bottle or last minute shopping for the hike
09:30 – From here we start hiking gradually up following the trail to Champadevi
12:30 – On the way one can enjoy the different landscapes with the varieties of plants as well as birds.
Reach top of Champ Devi and have a magnificent views of Langtang, Gauri Shanker, Jugal, Dorge Lakpa and many others.
Lunch break for one hour (It is advisable to bring your own water bottle for this trail as there is no source of water during this hike)
13:30– After enjoying leisurely lunch with good views of the Mountain View, we descend to Hattiban
15:30– Meet your vehicle at Hattiban and drive back to Kathmandu.
Shivapuri Hike – 1 Day
Shivapuri situated at an elevation of 2563m north of Kathmandu is the second highest hill around Kathmandu valley. Bagdwar, source of holy river Bagmati, is located near Shivapuri. Early in the morning, you drive from Kathmandu to Muhan Pokhari for about 30 minutes. After checking the formalities at the Shivapuri entrance gate, you enter Shivapuri watershed and wildlife area. You commence your hike from the southern boundary of the area where the army check-post is located. The trail goes along the rugged motor-able road through pine and cherry forest up to Nangi Gompa within one and half hours, where a nunnery monastery is located. Beyond the monastery, the trail goes steep uphill through the oak, rhododendron and bamboo forest for another three hours.
From here one can enjoy the beauty of snowy Himalayas such as Ganesh Himal, Langtang-Lirung, Dorji Lhakpa and you take a shortcut downhill to Budhanilkantha in about two and half hours and drive back to Kathmandu.
Day Itinerary:
After breakfast some 13km drive to Budhanilkantha from the hotel. We walk through flat dirt road toward Nagi Gompa – Buddhist nunnery. We will take steep staircase, it is demanding uphill all the way to Shivapuri as we walk up almost 1300m from the starting point, the trail goes via famous Bagdwar which origin of holy Bagmati River. Shivapuri Peak offers stunning view over Kathmandu valley and nice birds eyes view to Ganesh Himal, Manaslu, Langtang Himal etc. We will visit Nagi Gompa on the way back and have some butter tea with nuns and interactive with them. We have chance to observe their puja and ritual activities in the monastery if your hiking day take place in the special day (e.g full moon) by chance. Our guide will transfer you to the hotel.
Kakani Hiking – 1 Day
Take a day hiking to Kakani, the best hiking point from Kathmandu which has beautiful views of the Himalayas. The short hike takes you through lush green paddy fields and sparse settlements to enjoy the view of rural Nepalese life. Your experienced tour guide will escort you from your hotel and drive for about an hour to Kakani. Kakani is one of the destinations where many domestic and international tourists visit every year to enjoy its natural beauty. Kakani lies on a ridge northwest of Kathmandu valley with an elevation of 2073m above the sea level, from where one can observe the magnificent views of the Ganesh Himal and central and western Himalaya.
The picturesque view of lush hills, oak and pine forests from Kakani is wonderful. Rejoice the moment of being in a pristine and joyful environment with the spectacular views of mountains as you proceed your Kakani Day Tour with Nepal Tours.
Day Itinerary:
8:00 AM::Meet the Guide at hotel and Drive to Gurje Bhanjyang.
9:00 Am::Hike starts,Hike to Kakani via Sueria Chaur(1900M),Take a tea break at Sueria Chaur and continue the Hike to Kakani through Shivapuri National Park.
2:00 PM:: Arrive kakani,Lunch and explore around Kakani, Explore Thai Memmorial Park, NMA Training Center, Scout Training Cnter, Narcon,etc
4:00PM:: Drive back to Kathmandu hotel.
Conclusion
Short Treks Kathmandu are doable at any time of year. These given treks are something new to offer in every season. The best time for the trek depends on the purpose and preference of the trekker. For people who love to trek in less crowded trails, monsoon and winter seem ideal. But, if you want to trek during the peak season and enjoy the crystal clear unobstructed views, spring and autumn is the right time for you. If you would like to above any treks in Kathmandu. Please contact us.